Products
Machinery
Freund granulating/coating technology is utilized in pharmaceuticals, foods and fine chemicals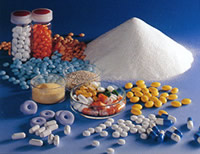 We focus our efforts on developing technology for all kinds of machinery and devices for granulation and coating and we are accumulating good results in Japan as well as overseas.
Our products are mostly used for pharmaceutical products but they are also used in the field of added-value products such as foodstuffs, flavourings, seeds, toner, new ceramics and catalysts.
By combining the comprehensive technological strengths we have accumulated up until now and the technological strengths of our group companies, we will continue to actively develop our business in the future.
Drying
FLOW DRYER has been improved in all of these important points.
A device that docks the spray system in the fluid bed dryer.
Printer
Next Generation Tablet Printer (with Inspection function)
Tester & Analyzer
Particle groups in fluid are divided into single particles and sampled and image analysis is conducted. Then, by measuring in real time, it is possible to reliably grasp the progress of granulation.
It is adopted for the moisture control from a process of the granulation/drying to the endpoint much.
Dust collector
It is equal to HEPA filter.
The filter collects over 99.999% of 0.3μm fine dust particles
SUPERCOLLECTOR is equipped with reverse-blow air cleanable HEPA Filter,FREUND/AVK Micron Filter.
Washing device
It is the cartridge filter washing device that washing validation is easy.
This device automatically washes vessels (containers) used for the supply, transportation and storage of raw materials/intermediate products/products in the manufacture of pharmaceutical products.
Plant Engineering
In recent years it has become compulsory to conduct flushing validation with GMP at drug manufacturing plants. In order to respond to this, we attached flushing nozzles to the interior of the device as well as to the interior of the inlet and exhaust ducts.
Phamatronics® is, as part of factory automization, a ground-breaking automatic/unmanned production line system realized through a combination of accumulated know-how related to granulation/coating technology that we have cultivated over many years and the latest computer control systems.
We can help with validation, etc. upon request.
---