RESEARCH & DEVELOPMENT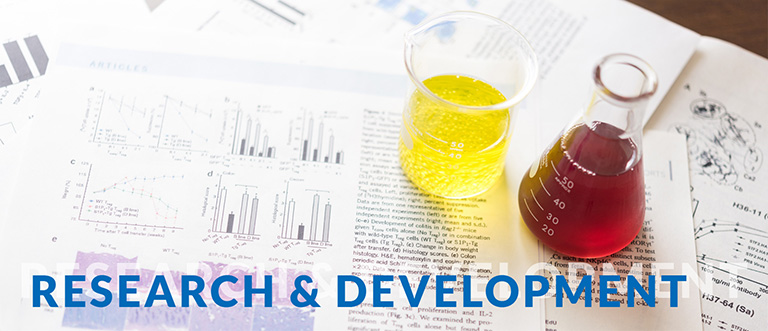 New business development begins with the Institute for Technology Development.
As an R&D-oriented company, FREUND is engaged in the development of products that meet the needs of pharmaceutical, food, chemical, and other industries.
At the Institute for Technology Development, experts in mechanical engineering, pharmaceuticals, electronics, applied chemistry, biochemistry, etc., devote their energy to research and development of products rich in originality, and have launched a number of original products at the forefront of industry.

Since our founding, we have devoted our energy with sincerity to the development of technology and hold a large number of patents, utility models, and design and trademark rights in Japan and overseas. While the number of papers we have submitted to domestic and overseas scientific journals exceeds 100, we have also made research presentations at international conferences, symposiums, etc.
In addition, through joint research efforts with universities and pharmaceutical companies in the fields of equipment and excipients, we have developed the fully automatic sugar-coating/film-coating device HICOATER, the fluidized-bed granulation & coating device FLOW COATER, the NONPAREIL series of pharmaceutical excipients, and more.

This page introduces the objectives and efforts of each R&D Team.
Machinery R&D Team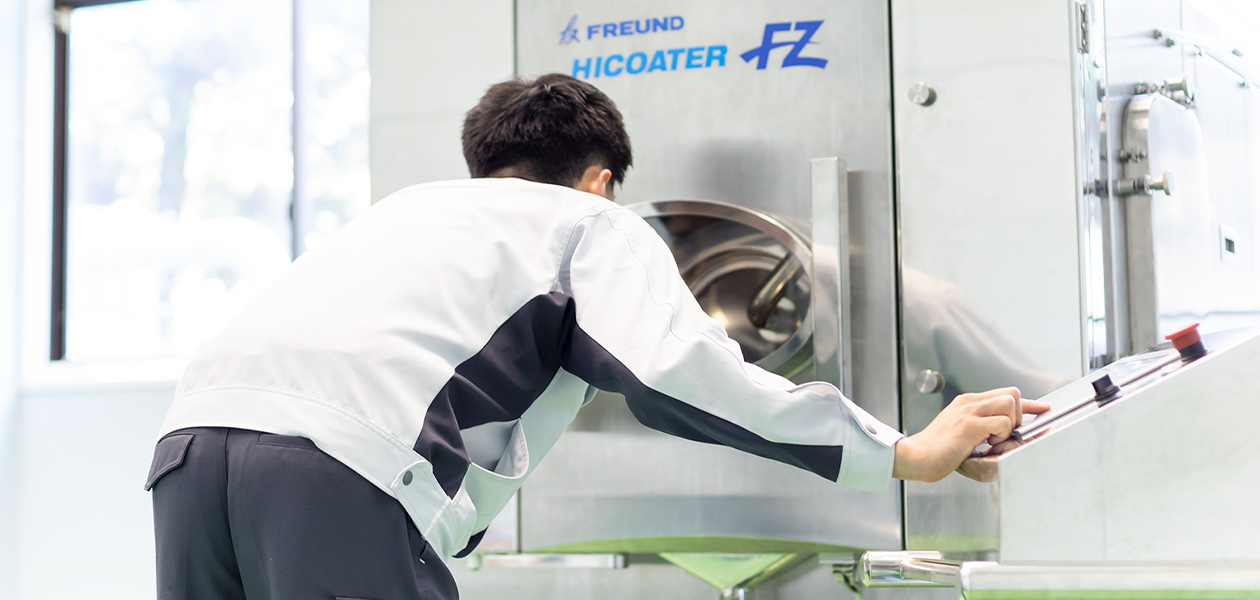 With our corporate philosophy "Develop the Future through Creativity" and management vision "Contribute to the future of medical care and health of people throughout the world and develop technologies that support an affluent lifestyle and food safety and security," we engage in our business activities toward the realization of these goals.
With the Machinery R&D Team playing its part in the realization of these goals, each member of the research and development staff devotes themselves on a daily basis to grasp the essence of things without disregard for even the smallest of matters.
Activities performed by all team members with an ever-present awareness of key points of things serve as a foundation for meeting the true needs of our customers.
The Machinery R&D Team is engaged in the development of manufacturing equipment and peripheral technologies that process powder raw materials used in pharmaceutical, food, chemical, and other industries, and give functionality to these powders.

For example, the following devices and equipment have been commercialized.
Equipment used in the "powder mixing" process to make the material homogeneous without any bias
Equipment used in the "granulating" process to make the prescribed powder into granules of a desired particle size, density, and hardness
Equipment used in the "coating" process to coat the prepared cores with functional materials for achievement of customer-designed solubility, elution properties, and product protection
Equipment used in a "tablet printing & inspection" process to print arbitrary content like fonts or figures on tablet surfaces for improvement in distinguishability and to inspect tablets for mixing of impurities and for damage
Integrated equipment which continuously performs a series of processes of "mixing," "granulating or drying," "tableting," and "tablet coating" to minimize equipment space, prevent human error during manufacturing, automate process inspections, and achieve personnel-saving or unattended manufacturing
Other devices and equipment
In addition, the Group companies of FREUND Corporation, FREUND-VECTOR (USA), FREUND-TURBO (Japan), Palre-FREUND (India), and Cos.Mec (Italy) jointly develop "global strategic products."

Meanwhile, we are also engaged in the development of products through "open innovation" in an industry-academia collaborative effort at each base.

All of these activities are carried out by engineers specialized in powder processing (particle design), device and mechatronics design and control design, who are members of the R&D Team, with the aim of creating new products by bringing together their knowledge and wisdom.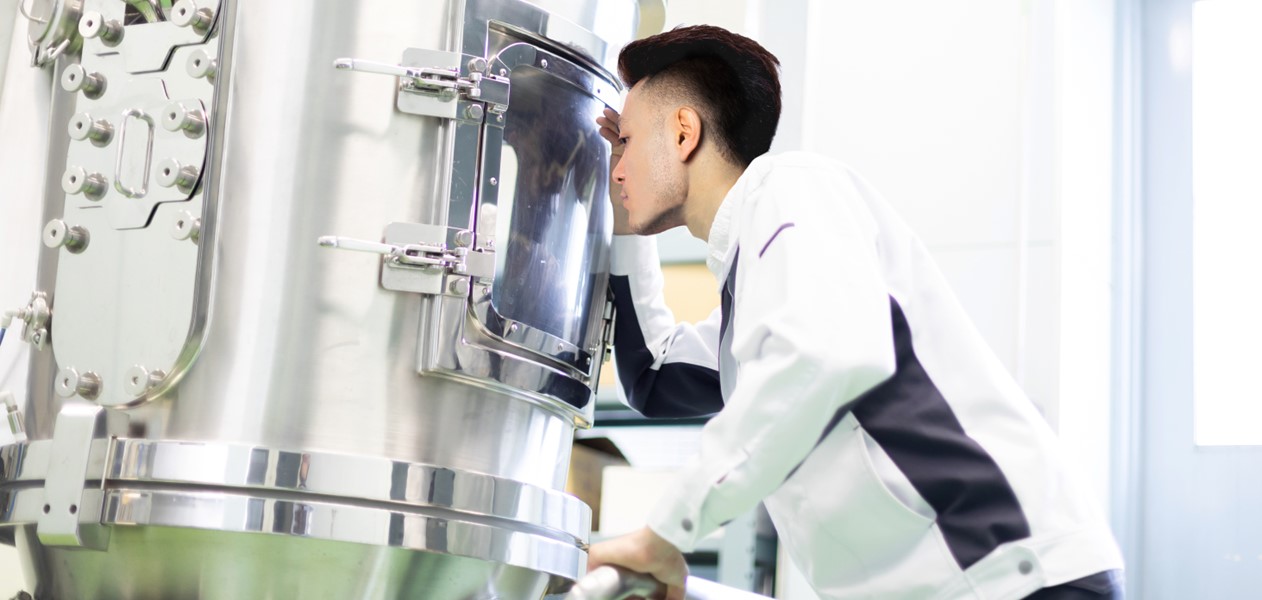 Excipients R&D Team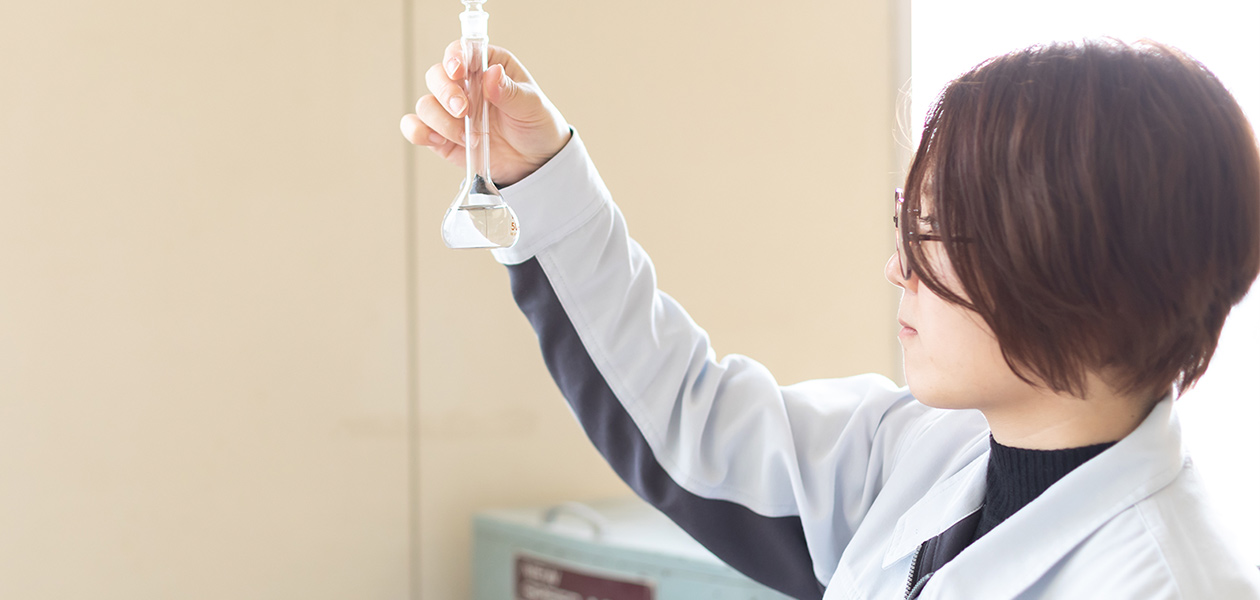 The Excipients R&D Team is responsible for the product development of excipients for the pharmaceutical, food, and health food industries.
Pharmaceutical excipients are important ingredients that form pharmaceutical products in conjunction with active pharmaceutical ingredients, and provide usefulness such as ease in swallowing (masking of bitterness, odor, etc.), improve stability, stable release of active ingredients, and also facilitating formulation.
Food additives are added to or mixed with food in the manufacturing process or for the purpose of processing or preserving food.
Since the pharmaceutical and food industries are the foundations for the safety and security of people's life and are familiar and indispensable, we are making every effort to maintain and improve quality and stable supply.

Our Excipients R&D Team in this Institute focuses on the following three points in particular.
New product development and its global expansion
Improvement of quality and production of existing products, development of new grades, and acquisition and provision of application data
Open innovation in collaboration with academia, public institutions, and other industries
Through these three points, we look to contribute to better medical care and health for people worldwide, and support fulfilling lives and food safety.
In addition, another characteristic of our company is that we have both a machinery and excipients division, with many overlapping sales destinations.
Therefore, by working in collaboration, we have the advantage of being able to develop products and make proposals from the customer's perspective.

The products we develop are used for the medical treatment of patients and the enriched lifestyle of consumers through the product development by pharmaceutical companies and food companies.
It is an irreplaceable joy to see our products being turned into finished products or medicines in the market, and it is a very rewarding job.
With "No Success without hard work," "Challenges are exciting," "Failure is a stepping stone towards success" as our motto, we are sincere in our performance of steady research and development activities on a daily basis.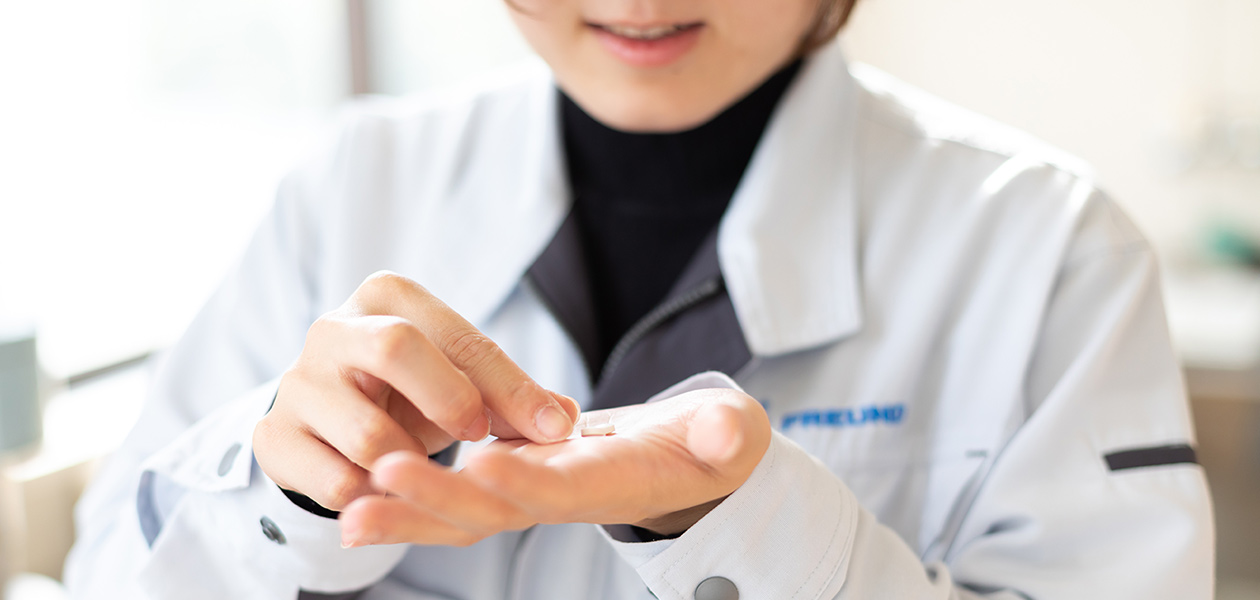 Food Preservatives R&D Team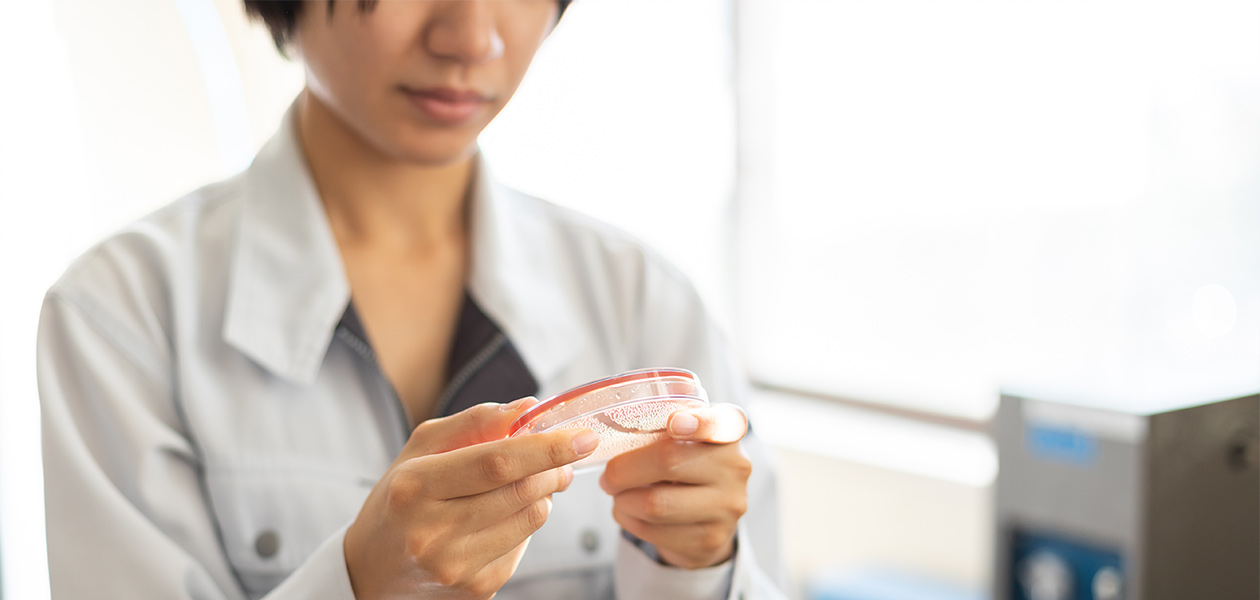 Focusing on the fact that Ethanol gas produces a bacteriostatic effect in low concentrations, the Food Preservatives R&D Team has developed unprecedented unique food preservative, such as Antimold®, an Ethanol evaporation type food preservative (released in 1978), Negamold®, a food preservative that combines Ethanol evaporation and deoxidation abilities with a high bacteriostatic effect (released in 1987).
Our food preservatives have been used mainly for confectioneries and breads that contain a lot of moisture. At the same time, we do not limit the application to the conventional field of food, but take a broad view of food as "foods that nurture life," and are actively engaged in research and development of technologies and products related to food quality preservation in order to contribute to society together with manufacturers of food.
The environment surrounding food has been changing with the times.
With the increase in the number of double-income households, graying of society, and the shift to individual meals, the market for boxed meals and prepared foods is expanding, and the spread of information technology has led to a rapid increase in the distribution of food through online shopping.
In addition, lifestyles have changed drastically due to the impact of infectious diseases spreading on a global scale, and with the rapid growth of the take-out and delivery markets, further diversification is required in food safety and security to match the diversifying food formats and distribution channels through which foods are passed on to consumers' hands.
In addition to these social demands, in order to realize a sustainable society, there is also a need for technological innovation and product development that can truly contribute to reductions in food loss and waste and environmental pollution.

Food is the source of life that gives all of us the energy to live, and it also has the power to stir emotion and joy with deliciousness.
We believe that this energy and power come after the safety and security of food are ensured, and our food preservatives can make a significant contribution toward the realization of safety and security. We aim to create and nurture new food preservation technologies and products that respond to changes in the environment surrounding food, as well as to the challenges and true needs of our partner food manufacturers.