Engineering After Support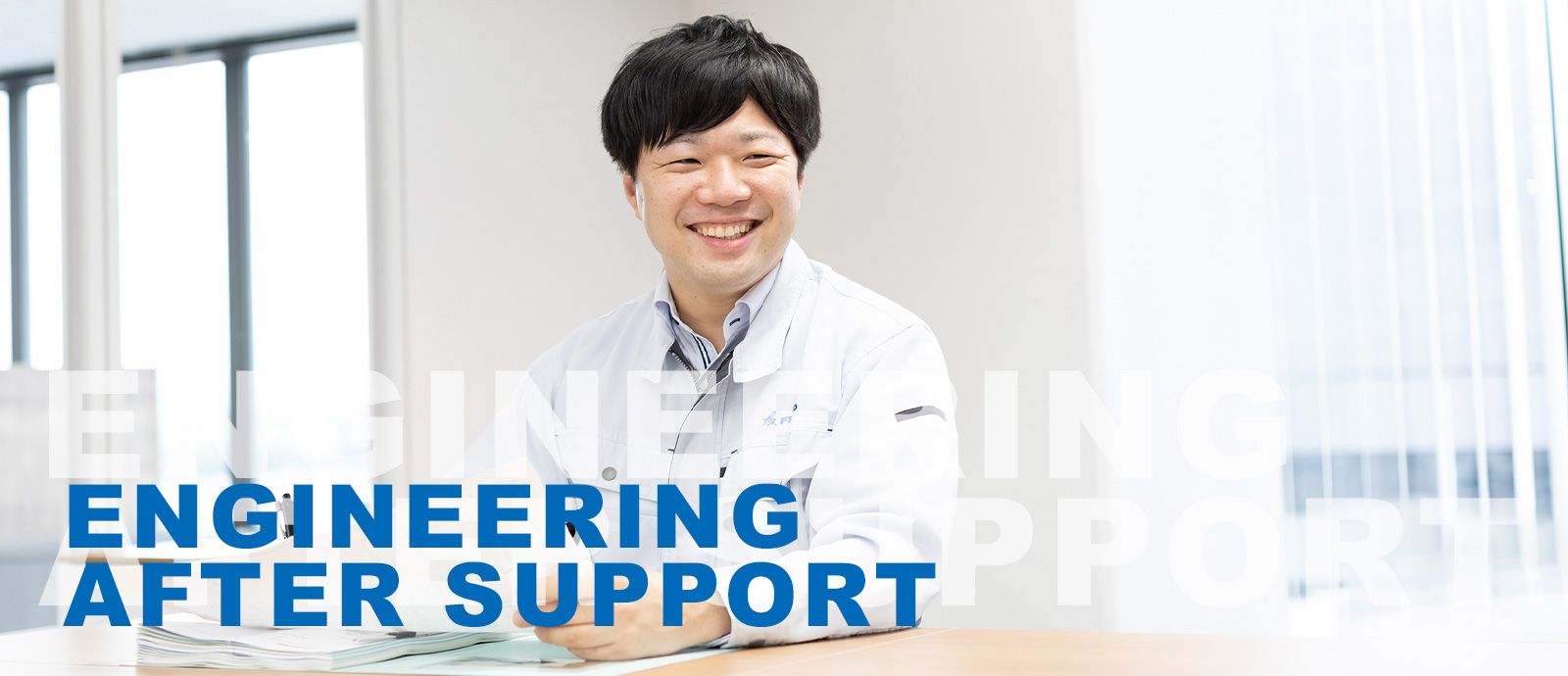 A sense of confidence only FREUND can ensure
We not only deliver equipment but also provide support as a partner close to you, from selection of equipment to after-sales support including periodic inspection.
Flow up to equipment delivery

FLOW
Estimate and order placement

Detailed design and fabrication

Pre-
shipment inspection

Installation and validation
Meeting: We propose the optimum solution from among our many solutions according to your needs.
Testing: To ensure the formulation that you are considering can be realized, we perform testing by using your raw materials at our test center in Hamamatsu.
Field research: We visit your manufacturing site, listen to your requests, and then propose the most appropriate method for installation of the equipment.
We provide an estimate based on your inquiry.
We provide the optimum proposal according to your requests and budget.
We provide a detailed design based on your inquiry.
Upon receiving approval from you on the design details, we start the manufacturing process.
Only products that meet the quality standards set by our company proceed to the process of pre-shipment inspection.
Our engineers check to ensure the equipment meets your requests and meets quality standards.
We ask you to confirm the equipment before introduction in an effort to ensure peace of mind.
Our engineers carefully perform carry-in, installation work, as well as various types of wiring work.
After completion of work, we check to ensure the equipment is properly assembled and installed, and operates as designed.
After completion of validation, and a determination is made that the equipment can be used with complete confidence, hand-over is finalized.
Periodic inspection

According to your production status and equipment operational status, we propose an optimum inspection plan.
Because we are experienced with pharmaceutical manufacturing sites, we can perform planning in which the cost and production efficiency are optimized.

In addition, planned maintenance is an effective means to prevent any unexpected trouble.

Calibration

In recent years, strict requirements for compliance with GMP-related standards (validation criteria) is critical.

It is essential to calibrate measuring instruments that have a significant impact on products, and we carry out numerous annual calibrations.

Since we not only perform simple comparative calibration between standard instruments and measuring instruments, but also perform loop calibration with an understanding of the entire equipment configuration, we can also detect abnormalities in terms of hardware other than measuring instruments.

Troubleshooting

No matter what measures are taken, sudden troubles do occur. At such times, contact our Engineering Team.

We respond promptly with initial troubleshooting by phone to on-site emergency response, and provide reliable support from identifying problem points, taking a course of action, to proposing recurrence prevention measures.

Parts Center

FREUND offers a dedicated staff at its Parts Center, who respond to inquiries, estimates, and orders for parts of existing equipment we have already delivered.
In order to prevent unexpected trouble, we recommend periodic replacement of consumables and service parts.

Even a single screw is an important part in maintaining efficient production. Please feel free to consult us no matter how small the matter.